10 Dogs That Should Be Happy Pet Insurance Exists
Pet insurance is becoming more and more popular, and it makes sense as to why — not only do we consider pets part of the family, but they're almost as accident-prone as we are. Here are 10 cute dogs that are probably happy that their owners invested in insurance. Don't worry, each of these pups made it out okay!
1. The Little Fisherman
This pup got an unexpected bath after his curiosity got the best of him. He might not need a trip to the vet, but surely a warm towel would help.
2. The Clumsy Gardener
This pooch enjoys the flowers when they're blooming, and not directly in the way of his game of fetch. Who put that pot there?!
3. The Trampoline
We should all strive to be more athletic. But, this guy is a solid reminder to always use caution. Trampolines are a lot of fun, but one false move can lead to an unexpected trip to the doctor's office.
4. The Slip and Slide
This cutie almost made his slip look intentional. At least he's a pro at smooth recoveries.
5. The Smooth Operator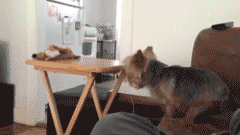 This tiny Yorkie had a gameplan in mind for getting his toy. But unfortunately, his plan fell apart at the last minute. Insurance exists for moment just like this one.
6. The Live Wire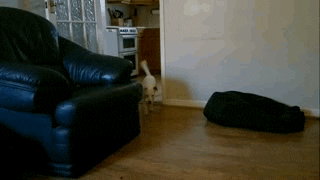 It's unclear as to what exactly happened here — a slip on the floor? A jump gone wrong? No matter what, it seems like this dog might have missed a few agility classes.
7. Winnie the Pooh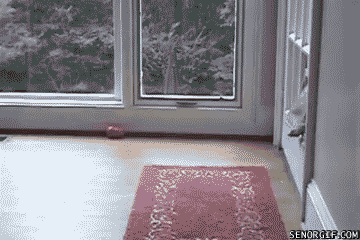 Pooh Bear isn't the only fluffy character that needs to navigate himself out of a tight spot. This pup isn't quite too confident on how to use his doggy door, but manages his way out. That means he's been stuck in small spaces before.
8. The KFC Fanatic
It's always important to keep dogs safe in the car — but even this was an accident that was tough to predict. Colonel Sanders would be proud.
9. Construction Pup
Image Credit: ImNotDry/Twitter
If it's so easy for this dog to break through the wall, just imagine the other crazy adventures he's gotten himself into. His owners are probably equally glad that they have home insurance as well.
10. The Silly Pug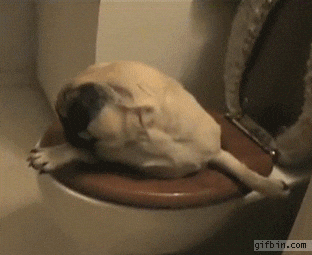 Surely you can relate — all this guy wanted was a nice drink of water, and then one thing lead to another. Hopefully he had a swift rescue after his clumsy moment went viral.